Sold Out for 2023!
Our bees enjoy the diversity of plant life from the high Salem Plateau of the Ozarks to the bottoms of the many rivers and drainages in Northeast Arkansas. It seems there is always some form of plant the bees can be working. This is a perfect location for bee and honey production. Our production colonies thrive and we are able to make many splits that we winter to increase our own colony numbers as well as provide nucleus colonies for sale to other beekeepers. Our quantities of nuc's for sale are limited so order early for 2023.
Nucleus Colonies:
| No. Colonies | Price |
| --- | --- |
| 1 - 5 | $205.00 |
| 6 - 10 | $190.00 |
| 11 & Up | $175.00 |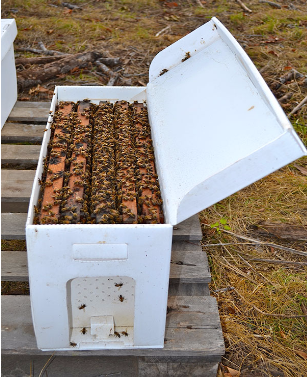 We will gladly answer any questions you may have. Bees are our business and like most beekeepers we love to talk about them.
Bring your protective gear if you need it so you feel comfortable inspecting your new nuc. We provide a temporary nuc box for you to take your bees home in. They will need to be placed in their new home soon after so they have more room. If not they will fill up the shipping box quickly and will want to swarm. So make sure you are ready for them. You will need a hive with the brood chamber being a Langstroth deep. One eight or ten frame box will get you started. In a couple of weeks you will need to add another box with frames to keep them growing and happy in their new home.